Our Clergy
Fr. Paschal Uche:
Father Philip Willenbrock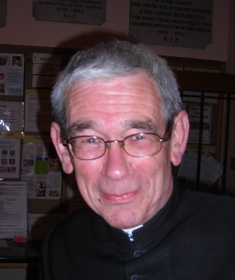 Apart from my father, several other people have had a profound influence on my spiritual life. At Christ's Hospital (the Blue Coat School near Horsham) I came under the influence of the Anglican Chaplain who later became a monk at Ampleforth.

At Keble College the Warden, Dr Austin Farrer a great Anglican theologian, gave me encouragement and friendship. While working in Cornwall as a GP the Anglican Bishop of Truro, the late Mgr Graham Leonard, told me that he thought I should be ordained and continue working as a GP. This happened in 1982.

Later I moved with my family to Essex having trained as a teacher. In 1992 I was received into the Catholic Church. Having undergone formation at Wonersh, I was ordained priest during 1997 in Brentwood Cathedral together with three other former Anglicans.

Since then I have ministered in St James the less and until 2007 continued to teach at St Benedict's College.

Father Anthony McKentey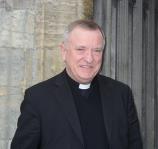 Fr Anthony McKentey was the Parish Priest of Colchester between October 2009 and September 10, 2017.

Fr Tony, as he is usually known, was born in Chelmsford in 1950. He attended St Philip Priory School there, and then Campion School, Hornchurch, when it first opened in 1962. After school, he worked for a short time at the Prudential Insurance Company in Holborn. In the summer of 1970 he paid his first visit to Lourdes which was a turning point in his life, and on his return applied to Bishop Casey to study for the priesthood.

He began his seminary studies at St Edmunds College, Ware, in September 1970 and was ordained in the College Chapel there as a Deacon on the 29th June 1975. He served as a Deacon in St Mary's, Hornchurch and was ordained to the Priesthood in his home parish of Blessed Sacrament, Chelmsford, on March 27th 1976. He served as Assistant Priest in Holy Family, Benfleet, from 1976 to 1979; St Augustine's, Barkingside from 1979 to 1983 and Brentwood Cathedral from 1983 to 1988. In 1988, he went back to St Augustine's, Barkingside, as Parish Priest when it became a "one-man" parish, and remained there until his Silver Jubilee in 2001. During his time there funds were raised to set up a Parish Youth Centre and one of the parishioners, Paul Fox, was ordained there in 1998. In 2001, Fr Tony was appointed to Our Lady Queen of Peace, Braintree, where he spent eight happy years until the Bishop asked him to become Parish Priest of Colchester.

Fr Tony then moved to St Francis of Assisi, Halstead as the Parish Priest.
Sadly, he died on December 9, 2017 and his funeral Mass was held on December 22, 2017. May his soul rest in peace. Amen